Welcome to the world of AirPods Max, Apple's top-of-the-line wireless headphones that promise an unparalleled audio experience.
This high-end audio technology is sleek and stylish and offers advanced features like noise control, customizable settings, and seamless integration with a host of smart devices.
In this blog post, we will guide you through pairing your new AirPods Max with any device in your arsenal – an Apple product or otherwise.
Quick Summary
Before pairing, ensure that your AirPods Max is fully charged and prepared by removing any obstructions.
Pairing with Apple devices is quick and easy. Just turn on Bluetooth and put the AirPods Max in pairing mode.
You can also pair AirPods Max with non-Apple devices, but certain features may not be available.
To optimize performance, customize controls, adjust noise-cancellation settings, enable Spatial Audio, and regularly check for software updates.
Understanding AirPods Max And Pairing
Preparing your AirPods Max is essential before pairing them with any device.
Preparing Your AirPods Max
Before you start pairing your AirPods Max, it's essential to ensure they are fully prepared and charged. First, remove the smart case that comes with your AirPods Max.
This case is a protective cover and automatically puts the headphones in low-power mode when not in use, conserving battery life.
Now, take a moment to charge your AirPods Max using the provided Lightning to USB-C cable.
While charging, keep an eye on the LED status light next to the charging port; it will glow amber while charging and turn green once fully charged.
Pairing With Apple Devices
Pairing AirPods Max with Apple devices is a breeze! The process involves turning Bluetooth on the device and putting the AirPods Max in pairing mode.
Here are the steps you need to follow:
To pair with an iPhone, iPad, or iPod touch: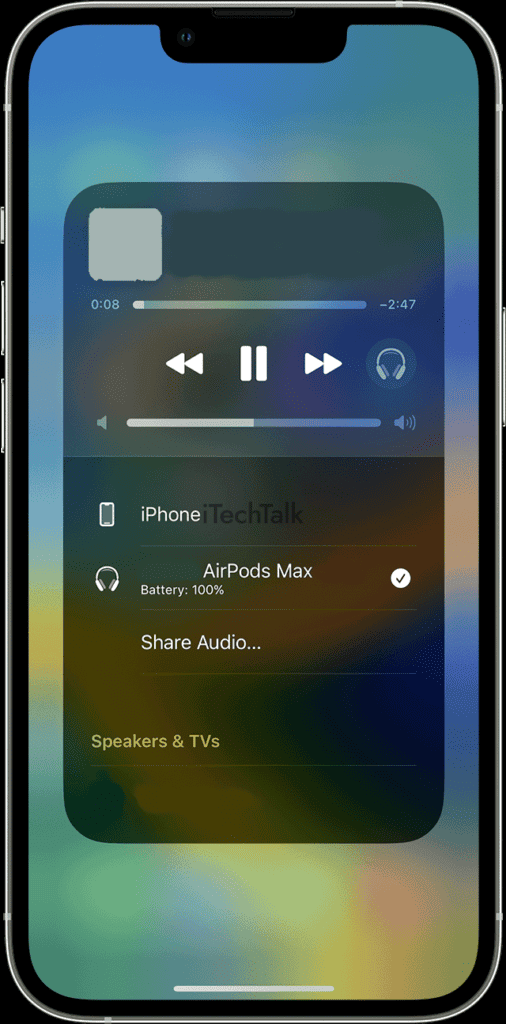 Open the charging case lid and press and hold the button on the back of the case until it enters pairing mode.
On your device, go to Settings > Bluetooth and tap AirPods Max.
To pair with a Mac:
Make sure your Mac is running macOS Big Sur 11.1 or later.
Click on the Bluetooth menu icon in your Mac's menu bar and select "Open Bluetooth Preferences…"
Turn on your AirPods Max by pressing and holding the noise control button until they enter pairing mode.
Select "Connect" next to your AirPods Max in the list of available Bluetooth devices.
To switch between Apple devices:
If you have multiple Apple devices signed in with your Apple ID, you can easily switch between them while using your AirPods Max.
Simply select "AirPlay" from Control Center or from within music/video playback apps and choose which device you want to use.
Pairing AirPods Max with Apple devices is simple and quick, but once paired, you can enjoy superb audio quality for all your favorite activities!
Pairing With Non-Apple Devices
If you own non-Apple devices and want to pair your AirPods Max, don't worry; it is possible.
Here's how:
Ensure the device you want to connect to the AirPods Max has Bluetooth turned on.
Put the AirPods Max in pairing mode by pressing and holding the noise control button until the LED flashes white.
Find the AirPods Max in the Bluetooth settings on the device and switch them on.
Wait for the AirPods Max to connect to your device.
Once connected, start listening to music or attending a call.
Remember that some features of AirPods Max may not be available when used with non-Apple devices since they are optimized for use with Apple devices.
Putting AirPods Max In Pairing Mode
Hold down the noise control button on the ear cup until the LED flashes white to put the AirPods Max in pairing mode. This signals that it's now discoverable and ready to pair with your device.
The LED will turn green after you successfully connect it.
It's worth noting that while Bluetooth devices have a reputation for being finicky when establishing connections, starting from scratch by resetting both your headphones and device should solve most problems.
Optimizing AirPods Max Performance
Customizing the controls and adjusting noise cancellation settings are just a few ways to optimize your AirPods Max, but you can do so much more!
Discover Spatial Audio and check for software updates in this section.
Adjusting Noise Cancellation Settings
To optimize the performance of your AirPods Max, it's important to adjust the noise cancellation settings to fit your environment.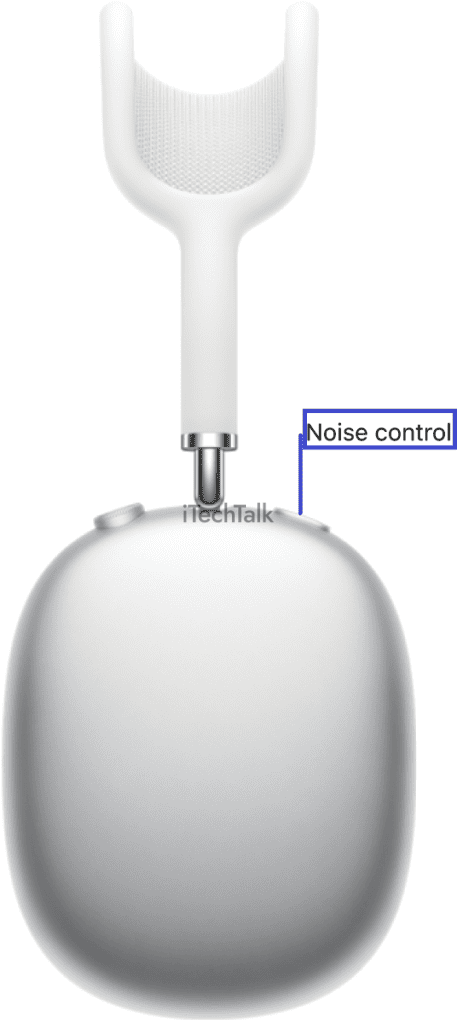 With a simple press of a button located on one of the ear cups, you can switch between three modes: Active Noise Cancellation, Transparency mode, and Off.
Active Noise Cancellation significantly reduces ambient noise using advanced algorithms that block outside sounds in real time. This is especially helpful in noisy environments such as crowded offices or airplanes.
Transparency mode allows external sound to come through while listening to music or taking phone calls so that you won't miss out on important announcements or conversations.
One AirPods Max hack many people don't know about is using Spatial Audio with Active Noise Cancelling for an immersive theater-like experience when watching movies!
Customizing Controls
One of the great features of AirPods Max is the ability to customize controls.
Here are a few ways to do that:
Access control customization through your device settings
Choose which functions each earcup controls (play/pause, skip tracks, activate Siri, etc.)
Change the noise control button function to switch between noise cancellation and transparency modes
Set up custom EQ presets for different audio experiences
Customize the orientation sensor settings to pause/play audio when removing or putting on your AirPods Max
By taking advantage of these customization options, you can personalize your AirPods Max experience and make it even more tailored to your preferences.
Using Spatial Audio
Spatial Audio is a unique feature of AirPods Max that delivers an immersive, theater-like experience. It creates a 3D sound field that tracks your head movements and adjusts the audio accordingly.
To activate Spatial Audio, play content that supports it on an iOS 14 or later Apple device. Then, put on your AirPods Max and tap the Spatial Audio button in Control Center to turn it on.
Overall, Spatial Audio is one of AirPods Max's standout features that sets them apart from other headphones on the market today.
Checking For Software Updates
I highly recommend checking for software updates regularly to ensure the optimal performance of your AirPods Max.
To do so, ensure your AirPods Max is connected to your device and open the Settings app on your iPhone or iPad.
It's important to note that updating your AirPods Max requires them to be in their charging case with the lid closed and connected to power. Ensure not to interrupt the update process, as it could lead to issues with functionality.
Troubleshooting Connection Issues
If you're experiencing connection problems with your AirPods Max, the troubleshooting steps include resetting the headphones, resetting Bluetooth on your device, trying a different device, and contacting Apple Support if necessary.
Resetting AirPods Max
Sometimes, AirPods Max may encounter issues with connecting or functionality. In such cases, resetting them can be a solution.
Here are the steps to reset AirPods Max:
Press and hold the noise control and Digital Crown buttons simultaneously for 15 seconds.
The LED light will flash amber and then white, indicating that AirPods Max has been reset.
Now, try pairing them again with your device.
Resetting AirPods Max can also help resolve audio quality issues or software errors.
Resetting Bluetooth On Your Device
If you're having trouble connecting your AirPods Max to your device, it may be necessary to reset the Bluetooth settings. This is a simple process that can often fix connectivity issues.
To reset the Bluetooth on an iPhone or iPad, go to Settings > Bluetooth and turn off the toggle switch.
On a Mac, click on the Apple menu, select System Preferences > Bluetooth, and hover over your AirPods Max in the list of devices. Click on the X icon next to them and confirm that you want to remove them from your system.
Afterward, restart both your Mac and AirPods Max before beginning to pair again.
Trying A Different Device
If you are having trouble connecting your AirPods Max to a device, there may be an issue with the device's Bluetooth connectivity.
One way to troubleshoot this is by trying a different device to see if the AirPods Max connects successfully.
For example, if you initially attempted to pair them with an Android phone and were unsuccessful, try pairing them with an iPhone or iPad instead.
This will help determine if the problem lies with the AirPods Max or the original device.
Contacting Apple Support If Necessary
If you're experiencing issues pairing your AirPods Max, despite trying all the troubleshooting steps, it's time to contact Apple Support.
They can help you determine if your device has an issue or provide additional assistance in pairing them correctly.
Apple Support is easily accessible through their website, phone number, or chat support options. When contacting for help, have relevant information about your device and the issue to expedite the process.
They can also walk you through resetting and repairing your AirPods Max if necessary.
Conclusion
In conclusion, pairing AirPods Max is an easy process that can be done with any device. You can enjoy these wireless headphones' high-quality audio experience with a few simple steps.
Optimizing their performance through noise cancellation settings, custom controls, and Spatial Audio can take your listening pleasure to a new level.
If you encounter any connection issues while using AirPods Max, don't worry; there are troubleshooting solutions available for getting them back up and running smoothly again.