For those who are already using another device from the Apple ecosystem, such as an iPhone or a Mac, checking the battery of paired Airpods is easy. However, even though Airpods work with non-iOS devices too, Airpods owners often wonder how to check the Airpods battery on Android.
Many other Bluetooth devices share battery status upon being paired but Airpods don't do so with Android devices.
What you will need
Airpods
Android device
Internet connectivity on your Android device(either cellular or Wi-Fi will do).
Note that if you choose to download any app using the Google Play store, you will also need a Google account. Ideally, the Play store app itself should have been updated before going to download third-party apps. Your Android device's settings might not allow downloading apps when using cellular data as well as downloading apps from third-party sources at all. Make sure to verify these settings as necessary.
Working Bluetooth on both, the Airpods as well as the Android device
How to Check Your AirPods Battery on Android
Step 1: Pair your Airpods with your Android device
Turn on Bluetooth and pair the Airpods with your Android device. This may require removing the Airpods from their charging case.
Step 2: Open Google Play Store
This will require a working Internet connection.
Step 3: Search for and install the AirBattery app
This is a tiny and free app that gets the job done. It has in-app advertisements though.
Step 4: Open the AirBattery app
The first time when you open this app, it will make you aware of the permissions it needs and the reasons behind them. Make sure that you are holding the phone in the portrait orientation as the text gets cut off in the landscape orientation.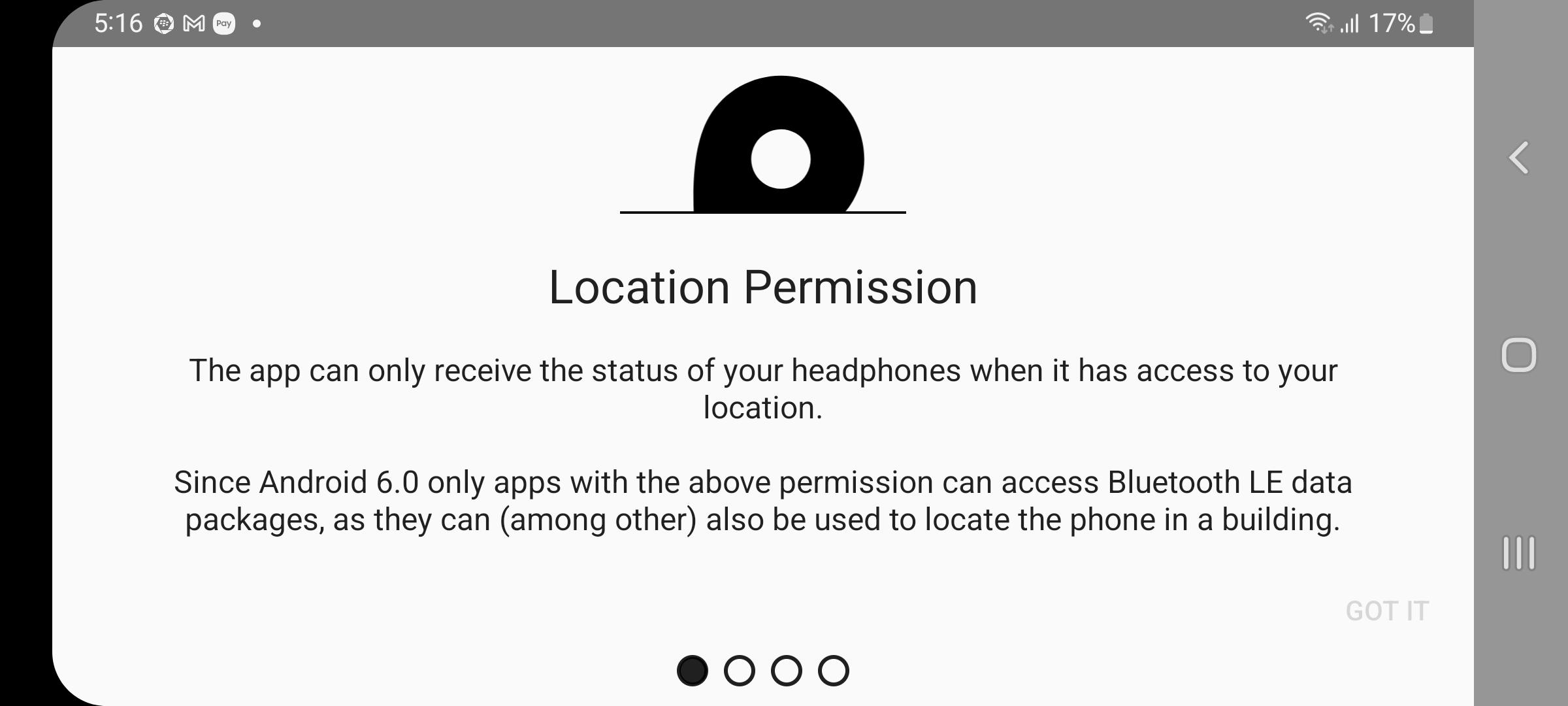 Related Reading
Grant the permission as requested. You can switch the device back to the landscape orientation now if so desired.
Step 5: Decide whether you want to run the app in the background
On the next screen, you will have to choose whether the app should run automatically. This might be convenient if you don't want to manually start the app each time you want to check the Airpods battery.
This will also require assigning the Allow display over other apps permission.
Step 6: Disable power-saving apps if necessary
In times of heavy usage, power-saving apps tend to end processes that are running in the background and not being actively used. To prevent this from happening with AirBattery, you can choose to ignore the warning presented on the next screen or configure the settings as suggested.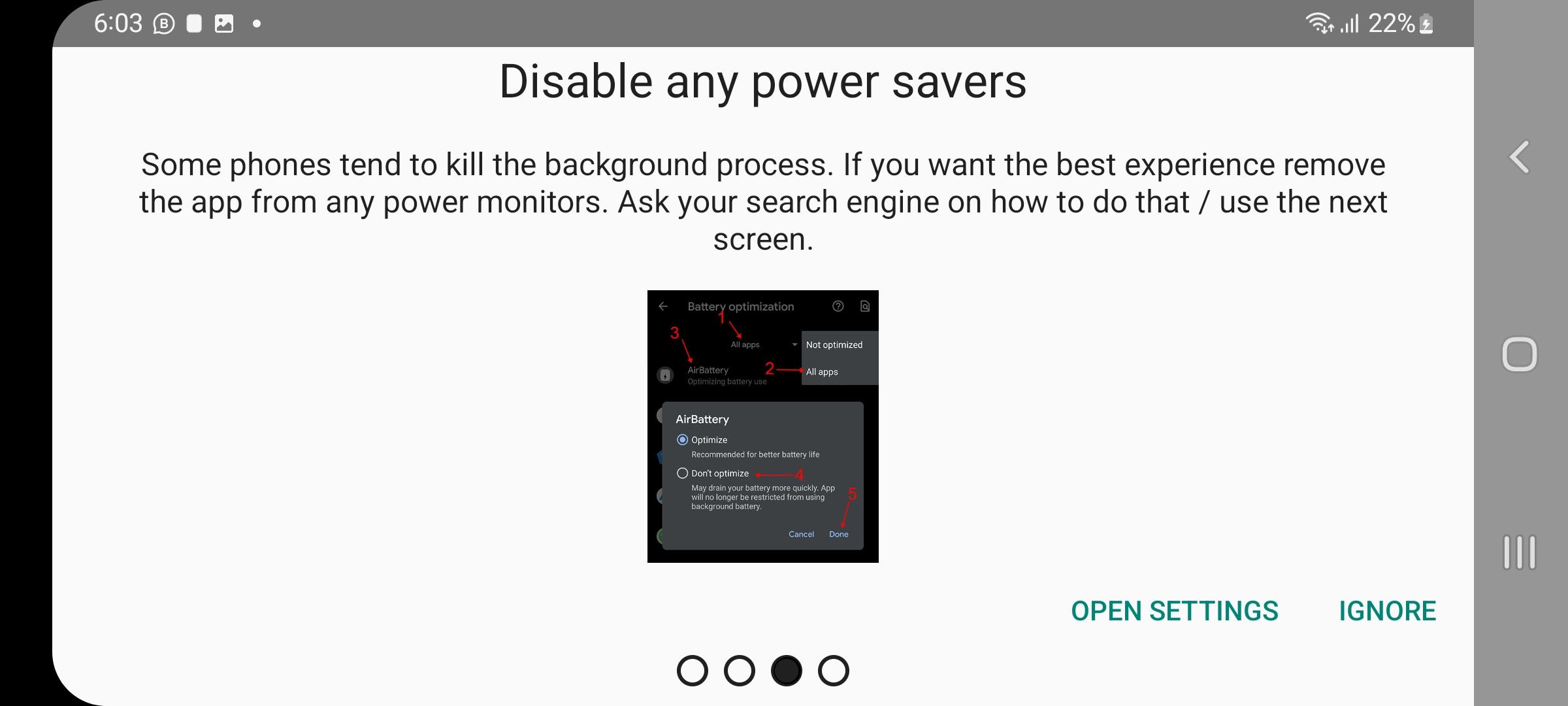 Step 7: Choose your model
The next screen will ask you to choose which Airpods you own. Make your selection and tap OK.
Step 8: Open the app
If the app doesn't display a pop-up at this point, open the app manually. Make sure Bluetooth is enabled.
Step 9: Bring out the Airpods
If the Airpods are inside the case, the app will display the battery status of the case too in addition to that of the Airpods. Since Bluetooth LE has a fairly low range, do not keep the case/Airpods too far from the Android device.
Also, if the pairing doesn't work on the first attempt, try reopening the case after closing it. If the battery is too low, the Airpods will fail to pair. You can try other solutions such as restarting the device, updating the OS, etc. If the failure persists, it might also help to check whether Bluetooth works with other devices properly.
What if I just want an estimate of the battery runtime?
The exact amount of battery runtime varies from one model to another as well as other factors such as usage conditions. However, you can expect at least a couple of hours of battery runtime on any Airpods model after a full charge.
The charging case acts as a neat power bank for your Airpods, since it has the capacity to fully charge your Airpods more than once while on the go. So if you are heading out with a fully charged Airpods case, you can rest assured that you will be able to get at least 2 hours of battery runtime with your Airpods by charging on the go.
What are some other apps available?
One such alternative is MaterialPods. Although (like AirBattery) it is also free and has in-app advertisements, it is comparatively heavy. At the same time, the number of customization options available with MaterialPods can be overwhelming for beginners, while being great for power users.
Note that with MaterialPods, disabling power-saving apps is a must. Unlike AirBattery, there is no option to skip/ignore this permission request. After asking for permissions similar to those asked by AirBattery, MaterialPods' first-launch setup will simply refuse to go ahead unless you allow unrestricted battery usage.
Conclusion
As someone having a Galaxy S21, it was really important for me to find out how to know the battery status of Airpods on an Android device. Since there is no built-in way to do the same, it will also be important for anyone who uses Airpods with Android devices.
Let us know which app you tried and what are your thoughts about them, in the comments.