In theory, the invention of Screen Time was an excellent idea. Society is indeed spending too much time staring at screens. So it's a good idea to keep track of your screen time for the sake of your eyes.
However, Screen Time can be annoying. Even worse, if you forgot your password, you won't be able to turn Screen Time off. I know how awful that is.
Thankfully for you, I've compiled all the ways you can get around this passcode problem below.
What you'll need to follow along:
Your iPhone or iOS device, fully charged
Your iCloud Password and Username/Email
What is Screen Time? How Does Screen Time Work?
Screen Time is a feature on your iPhone that allows you to see how much time you spend using apps, visiting websites, and more.
This feature lets you set limits for yourself or your family members. This way, you can reduce screen time if you feel like it.
Screen Time tracks your usage of apps and websites and then displays that information in a handy report. You can see how much time you spend on your iPhone overall and which apps and websites take up the most time.
You can also set limits for you and your family. For example, you could set a limit of 1 hour per day for using social media apps. Once the limit is reached, you will not be able to use those apps for the rest of the day.
Related Reading
What Is a Restrictions Passcode?
A restrictions passcode is a 4-digit code that you can set on your iPhone to prevent other people from changing your Screen Time settings. This is useful if you want to make sure that your limits cannot be changed by someone else.
What Is a Screen Time Passcode?
A screen time passcode is a 6-digit code that you can set to prevent others from using your device for some time. This is useful for keeping your kids from using your iPhone when they're not supposed to.
You can set both a restrictions passcode and a screen time passcode in the Screen Time settings on your iPhone.
What Happens After 10 Failed Screen Time Passcode Attempts
If someone enters the wrong screen time passcode 10 times in a row, they will be locked out of your iPhone for 15 minutes. After 15 minutes, they can try again. If they enter the wrong passcode 10 more times, they will be locked out for another 15 minutes.
How to Turn Off Screen Time With Passcode On iPhone
You can easily reset your Screen Time passcode if you have your Apple ID and password ready.
Go to Settings > Screen Time.
Tap on Change Screen Time Passcode
On the page which requires you to enter the Screen Time passcode, tap on the Forgot Passcode? option.
Enter the Apple ID and password you used when setting up the Screen Time passcode on the next screen.
After that, the Screen Time passcode will be turned off, and you can continue to turn off Screen Time without hassle.
Sign Out Of Screen Time Though iCloud
One of the quickest and easiest ways to sign out of Screentime without your password is to sign out of iCloud. Doing so will turn off Screen Time by default, as it signs you out of your entire profile.
To sign out of your iCloud account:
Open your Settings app.
Tap on Sign Out.
Then, go to Screen Time and select Turn Off Screen Time.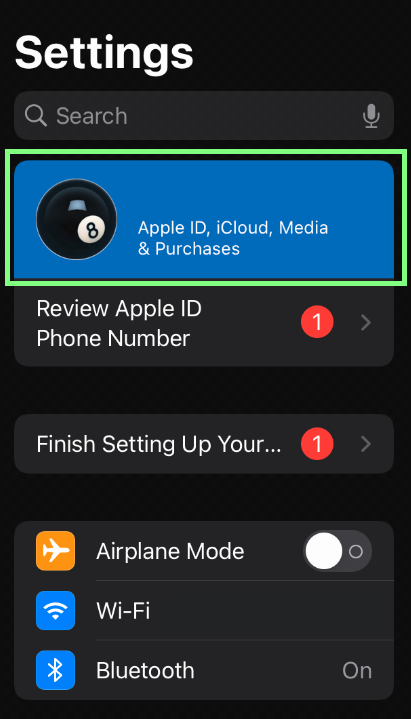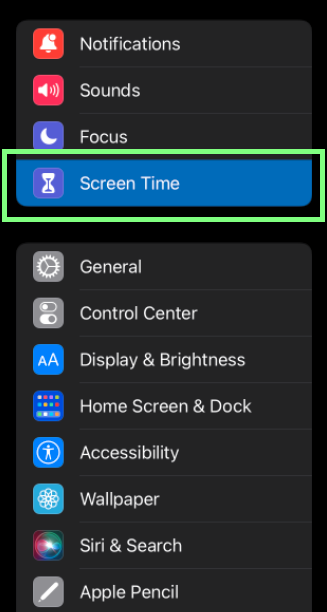 How to Remove Screen Time from Selected Apps
If you're a fan of Screen Time but don't want to put restrictions on certain apps, like the Camera or Messages, you can remove Screen Time from those apps. Here's how:
Open the Settings app and go to Screen Time.
Tap on the app you want to remove Screen Time from.
Toggle off the Use Screen Time switch.
How to Turn Off Screen Time on your Child's Device
If you are using the Family Sharing feature with your child's Apple device, it is much easier to turn off Screen Time. The passcode for resetting Screen Time is different from the passcode for the device, so your child will not be able to change it themselves.
Follow these steps using the family organizer's device:
Go to Settings and then select Screen Time.
Select your child's name from the Family section.
Now, select the Change Screen Time Passcode option.
Enter your new passcode and confirm.
Now, go back to the Screen Time settings page and tap on the Turn Off Screen Time option.
How To Avoid Forgetting Passcode
There are a few things you can do to make sure you don't forget your passcode in the future:
Use a passcode that is easy to remember but not easy for others to guess. A good way to do this is to use a combination of letters, numbers, and symbols that are significant to you.
Write down your passcode in a secure location, such as a locked drawer or safe.
Store your passcode in a password manager so that you don't have to remember it yourself.
Use two-factor authentication whenever possible. This will provide an extra security layer in case your passcode is compromised.
Change your passcode regularly to keep it secure.
Why You Should Choose FoneGeek iPhone Passcode Unlocker
If nothing seems to be working for you to solve your problem, it may be time to try out some software. An excellent choice is the FoneGeek iPhone Passcode Unlocker.
This tool can remove the screen time passcode and keep your device data.
Additionally, the FoneGeek iPhone Passcode Unlocker can be used to remove various screen locks. Such as 4-digit/6-digit passcodes, Touch ID, and Face ID. With this tool, you'll be able to access your locked iOS devices again in minutes.
Download FoneGeek iPhone Passcode Unlocker and install it on your computer.
Launch the software and select the Unlock Screen Time Passcode function from the home screen.
Connect your iPhone to your computer using a USB cable.
The software will ask you to unlock the device and tap Trust.
Press the Start Unlock button to remove the screen time passcode.
Hopefully, after reading these tips and tricks, you've managed to turn off Screen Time for your iOS device. If you have, please leave a comment down below and explain which way you did it.
Also, if you know someone struggling with this issue, please share this article so they can be free from the grip of Screen Time.