Is there anything scarier than having a damaged iPhone screen? The first time I had to deal with green lines on my screen, I kind of freaked out a bit. Is this permanent? What if I can't fix this? Am I gonna have to sell my car to get a new iPhone?
If this sounds like you, keep reading. I've compiled all the ways you can fix the obnoxious green lines on your iPhone screen.
What you'll need for these fixes:
Your iPhone, fully charged
A computer, Windows or Mac
A soft, lint-free cloth
Why Is There A Green Line On My iPhone Screen?
The green lines on your iPhone screen are most likely caused by a hardware issue with your device. It could be a problem with the display itself or with the logic board.
This problem happens more often with iPhone X models and newer ones. This is due to the newer models using an OLED screen.
There are many different reasons why your iPhone might be suffering from green lines:
A poor connection between the digitizer and the LCD for older iPhone models
The physical damage was inflicted on the driver circuit.
Water damage to the main circuit board
Complications between multiple apps
Software glitches from within the operating system
Related Reading
How To Fix Annoying Green Lines On iPhone Screen
Most of these fixes are free to do, but the one toward the end is a paid fix. Try the free versions first; if they don't work, try the paid solution. I also threw some extra tips at the end to help you out in the future.
Fix 1: Restart Your iPhone
The best thing you can do when battling green lines on your iPhone screen is hope for an easy fix. The easiest fix for this problem is to restart your iPhone.
This will only work if the issue you're having is more surface-level and not deep-seated in the phone's internal system. This won't work every time, but it's worth a try.
To restart your iPhone X or newer model:
Hold down both the side button and one of the volume buttons. The power slider will pop up after a few seconds.
Drag the power slider to turn off your phone. Wait for at least 25 seconds.
Turn your phone back on by holding the side button.
To restart your iPhone 8 or older
Hold the side button until the power slider pops up.
Drag the slider and wait for at least 25 seconds.
Turn your device back on by holding down the side button.
Hopefully, your issue will be fixed, but if not, continue reading.
Fix 2: Reset Your iPhone To Get Rid Of The Green Line Issue
If the green lines plaguing your phone are due to a software-related issue, one of the first things you should try is resetting your iPhone. Hopefully, this will clear out any glitches or bugs within your system.
To reset your iPhone:
First, ensure all your data is backed up, as resetting your phone will erase your settings and data.
Open the Settings app.
Go to General > Reset > Reset All Settings.
Wait for your iPhone to boot back up to see if the green lines are gone.
Fix 3: Update iOS System To Remove Bright Green Lines
To update your iOS device, you will need to connect it to a computer running the latest version of iTunes. Once connected, open iTunes and select your device from the list of devices. In the Summary pane, click Check for Update. If an update is available, click Download and Install.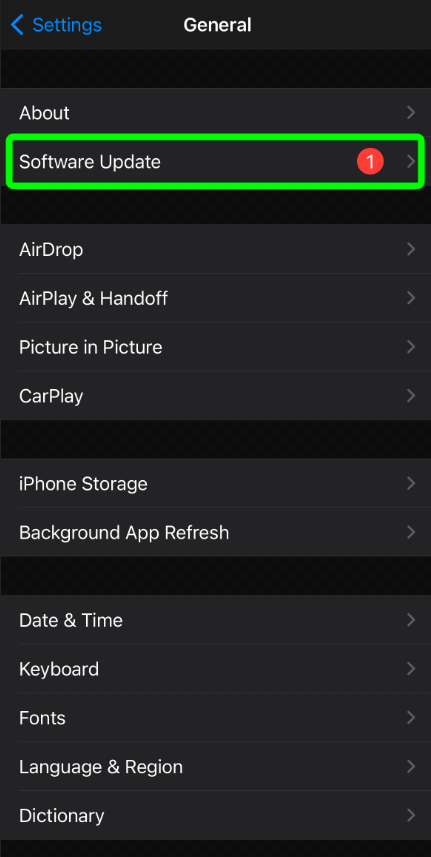 Fix 4: Run iPhone In Recovery Mode
If the green lines are still on your screen, you'll have to dig a little deeper to fix the problem. Try running your iPhone in recovery mode. This process will not delete any of your iPhone's data but re-install the latest iOS version.
If you need to put your iPhone into Recovery Mode, follow these steps:
Connect your iPhone to your computer and launch iTunes.
While your iPhone is connected, force restart it by pressing and holding the Sleep/Wake and Home buttons at the same time. Keep holding both buttons until you see the recovery mode screen.
Once you see the recovery mode screen, you can release the buttons.
Now, you'll see a message in iTunes telling you that it has detected an iPhone in recovery mode. You can now restore your iPhone from a backup or set it up as a new device.
Fix 5: Download TunesKit iOS System Recovery
If none of the free options worked to get rid of your green line issue, it might be time to pay for software to do it for you. Hands down, the best software to do this is TunesKit iOS System Recovery.
This professionally designed software is built to resolve up to 150 iOS-related issues, including green lines.
Here's how to use this software to fix the green line issue (make sure your phone is connected to your computer the entire time):
Install TunesKit iOS System Recovery software.
Open up the software. Connect your phone to your computer.
Click on Start to begin the process.
Select Standard Mode.
You will be presented with a series of firmware packages to pick from. Make sure that the firmware package you choose matches your device's info. Then, click on Download.
After the firmware is downloaded, click on Repair.
Fix 6: Contact Apple Support To Fix The Green Line Issue
If nothing else has worked so far, you will have to contact the professionals.
There are many ways to contact Apple Support. You can visit the Apple website and chat with a support agent, call Apple Support, or make a Genius Bar reservation. You can also find helpful information on the Apple Support website. Including how-to articles and troubleshooting tips.
Related Reading
Tip 1: Make Sure iPhone Screen Is Dry
Moisture is the bane of any electrical device. Avoiding moisture is not as easy as it sounds. Accidents happen, and water is everywhere.
Even having your phone in the same room that you're showering in can result in moisture getting into your phone.
Make sure your iPhone screen is dry. If it's wet, wipe it off with a soft, lint-free cloth.

Tip 2: Don't Drop Your Phone
Again, accidents happen. However, if you're serious about avoiding green lines on your screen, you have to make sure not to drop them.
Here are some tips to keep your phone off the ground:
Make sure that you have a good grip on your phone so that it doesn't slip out of your hand.
Try to keep your phone in a secure place, such as a pocket or bag, so that it is less likely to fall out and become damaged.
Hold your phone with both hands if you're taking a photo or video.
I use a wrist strap to make sure my phone never hits the ground.
I certainly hope that one of the fixes above helped get rid of the green lines on your screen. I hope you enjoyed the extra tips at the end as well.
Which one of these fixes solved your problem? Leave a comment below and let me know.
Also, please share this article with anyone you know suffering from green line problems.