If you're anything like me, you can't just do one thing at a time. You have to be doing at least two things at all times. That goes for your iPhone as well.
Being able to use a split screen on my iPhone was one of the first things I tried to do when I purchased the iPhone. Unfortunately, I learned that my iPhone wasn't capable of using this feature.
Don't get sad yet! Your iPhone may be able to use a split screen, and if it doesn't, you're not out of luck yet. Below, I'll be going over all the ways you can split your screen and use two apps at once, whether your iPhone is old or new.
Split Screen Mode Is Only Available For Some iPhone Models
There's good news and bad news when it comes to using the split screen with your iPhone.
The bad news: Split screen mode is only available for newer iPhone models. Only iPhone models that end with "Plus," "Max," or "Pro" are able to access this feature. This starts with the iPhone 6 and above.
The good news: You don't have to own a newer iPhone model that ends with "Plus," "Max," or "Pro," to split the screen. There is a workaround that will allow you to use two apps at the same time. I'll explain what that workaround is a little bit later.
Related Reading
Only Available With Newer iOS Software
The split screen feature is only available for iPhone users that are using iOS 14, 15, and 16.
So if it's been a while since you've updated, now is the time to do so.
To check and see if you have a software update available, open your settings app and go to General > Software Update. Click Download and Install to be updated with the latest software.
How To Natively Use Split Screen On Your Newer Model iPhone
Split screen is a popular setting with iPadOS and is used every day by regular iPad users. With iPhone users, it's a different story.
Most iPhone users don't even know that they can use a split screen with their iPhones. The feature itself is buried within the settings menu and takes some digging to get to.
To access the split screen option on your compatible iPhone model, go to Settings > Display & Brightness > Display > Zoom > Set > Use Zoom.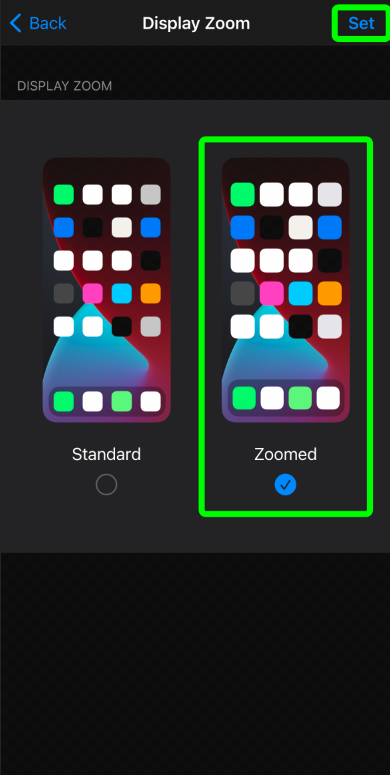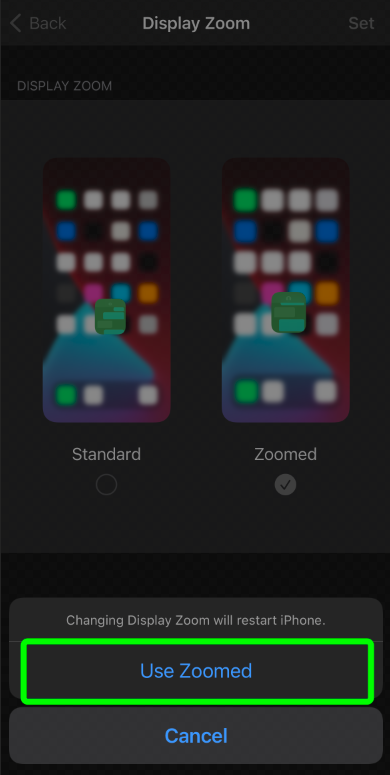 With this mode now activated, turn your phone horizontally. You can open an app like the Mail app, and the screen will split in two.
On one side, you will find your information like Incoming Messages, Contacts, Time, Mail Notifications, and more. Tap on one of these buttons to open its contents onto the second screen.
This is why this feature is only available with the iPhone models that sport a larger screen. Your phone will need that screen space for all the information crammed into those two screens.
The Advantages Of Using Split Screen On Your iPhone
The main advantage of using this feature is navigation. Using a split screen keeps all the buttons and choices on one side of the screen and the results of pressing those apps on the other. This makes it so you don't have to use the back button as much.
For example, if you use split screen with Safari, you can search for websites on one half of the screen and have the actual websites pop up on the other. This way, you rarely have to navigate backward at all.
Not All Apps Are Compatible With Split Screen
One thing to consider when using split-screen for the iPhone is that not every app in the app store will work with it. Many third-party apps can only be used in full-screen mode, making it impossible to use split screen.
The apps that are more likely to work with this split screen feature are the apps that are made by Apple. Try to stick with those as much as you can.
Apps To Use Split Screen For Older iPhone Models
If you have an iPhone model that can't use a split screen it's not as bad as you think. You can actually find Apps on the Appstore to give a true split-screen experience. Similar to that on the iPad.
Here are the best split screen apps you can download on your iPhone:
1. Split Web Browser by Savy Soda
If you're looking for a way to use split screen to browse the web, Split Web Browser is designed with that in mind. With Split Web Browser, you can browse up to 9 web pages on the same screen. The app itself is fast, stable, and free to download.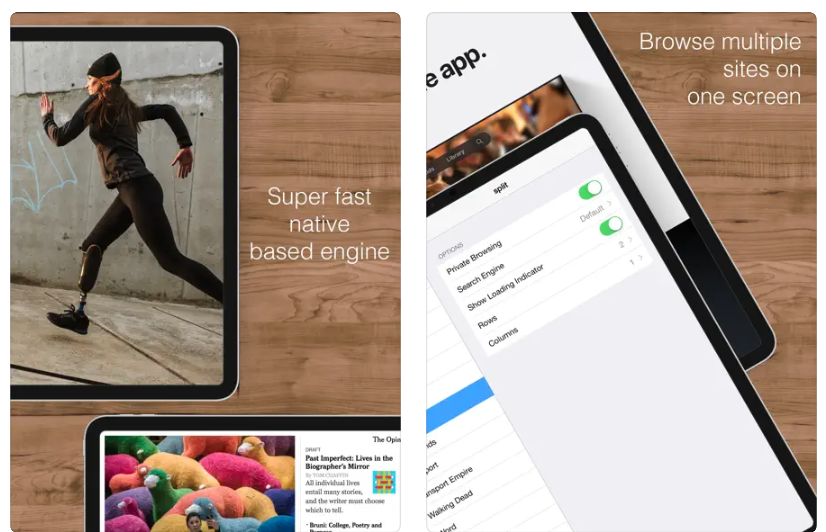 2. Split Screen View by Yana Shestakova
This app is a free download that will split your screen for you, allowing you to run two apps at the same time. So, for instance, you can watch videos on one screen while texting on the other.
Split Screen View also has a subscription-based service that you can sign up for if you wish. This will allow you to open multiple tabs with the app and disable the ads. Or you can just use the free version, which is a lot easier than trying to make split screen work natively.
3. WebDuo Pro by Michael Sacks
WebDuo Pro is one of the original iPhone apps to feature the ability to use two Safari Windows at once. It's also one of the best.
This app won't allow you to use multiple apps at the same time. It only works with browsers such as Chrome and Safari. What the app lacks in choices, it gains in stability and ease of use when viewing two websites at the same time.
If you are an iPad owner, WebDuo Pro allows you to use three browsers at the same time. This app is not free however and will cost you $5.99.
4. TwookuL – Split Screen Browser by Kota endo
This split screen alternative has a simple design and is best known for its gesture controls. You can search the web on one side of the screen while taking notes on the other with just a few swipes of your finger.
TwookuL may be a tough name to say, but it makes for a good split screen alternative. It's also free to download.

5. SplitScreen – Multitask Player by Hoa Nguyen
This app is one of my favorites. This app allows you to split both browsers and video players into two screens.
Doing this will allow you to watch or read two pieces of content at once, and you can log into two different accounts at the same time. Meaning if you have two Facebook accounts, for example, you can check both of them side by side.
SplitScreen – Multitask Player is a free app. There is a monthly subscription available if you want to disable the ads and enjoy full access to the pro features.
Using Picture In Picture On The iPhone
You may be looking for a way to split your screen so that you can watch videos while doing other tasks on your phone. You can actually do this without the need to download any apps or activate split screen mode. You can do this by making sure that the picture in picture option is active.
Picture in picture will allow you to run video-based apps such as Youtube, Netflix, and FaceTime in a tiny window while you use the rest of the space on your screen for texting, emailing, or any other activity.
First, make sure that picture-in-picture is enabled:
Open the Settings app and tap on General.
Locate Picture in Picture and tap on it.
Toggle on Start PiP Automatically.
Once you ensure that picture in picture is enabled, you can use it by:
Open your video app and start watching a video.
Swipe up from the bottom of your screen to turn the video app you're playing into a small window in the corner of your screen.
Move the window where you need it for convenience. You can also pinch the window to make it bigger or smaller.
Picture in picture will not work with every app on your iPhone, but there is a large list of apps it will work for.
Most iPhone users assume that they can only have one app open at a time, so I hope you enjoyed all the different ways to make your iPhone more productive.
Please leave a comment below and let me know how you're going to use split screen with your iPhone. Also, please share this article with the iPhone users you know so they can start doing two things at once as well.