As an avid gamer, I'm not ashamed to admit that I'm addicted to video games. Unfortunately, I'm not the most outgoing person and tend to stick to myself.
That's why I like to play iMessage games with people. I get to play games with people I know, or I'm getting to know, and there are no awkward interactions.
I love iMessage games, and I know you will too. All you need is your iOS device and Apple ID, so let's download some iMessage games!
What Are iMessage Games?
iMessage games were introduced in 2016 with the release of iOS 10. These games provide a new way to interact and play with your friends through text messaging.
Many of the best iMessage games are turn-based, so you can take your time playing with friends. Most of these games are exclusive to iMessage.
These games provide an amusing way to stay connected with distant friends and relatives.
Maintaining a continuous conversation by text can be daunting. These games keep things lighthearted while still allowing you to maintain contact.
Related Reading
How to Install iMessage Games on Your iPhone
Let's start by demonstrating how to install the games on your device. Connect your iPhone or iPad to the internet since we'll be downloading the games for iMessage.
Step 1: Enable iMessage
You can use the Messages app on your iPhone to send and receive iMessages. However, you must have iMessage enabled to utilize it with the Messages app.
You probably already have iMessage enabled, but if you don't, here's how:
Locate your device's Settings app and select Messages. After that, enable the feature by tapping on the switch next to iMessage. With this turned on, you can now send and receive messages (and iMessage games) with other iMessage users.
Step 2. Install iMessage Games
Installing these iMessage games is super quick and easy:
Open the Message app.
Tap on the gray App Store icon to pull up the Icon Bar.
Tap on the now active App Store Icon.
You can now install all of the iMessage games you would like.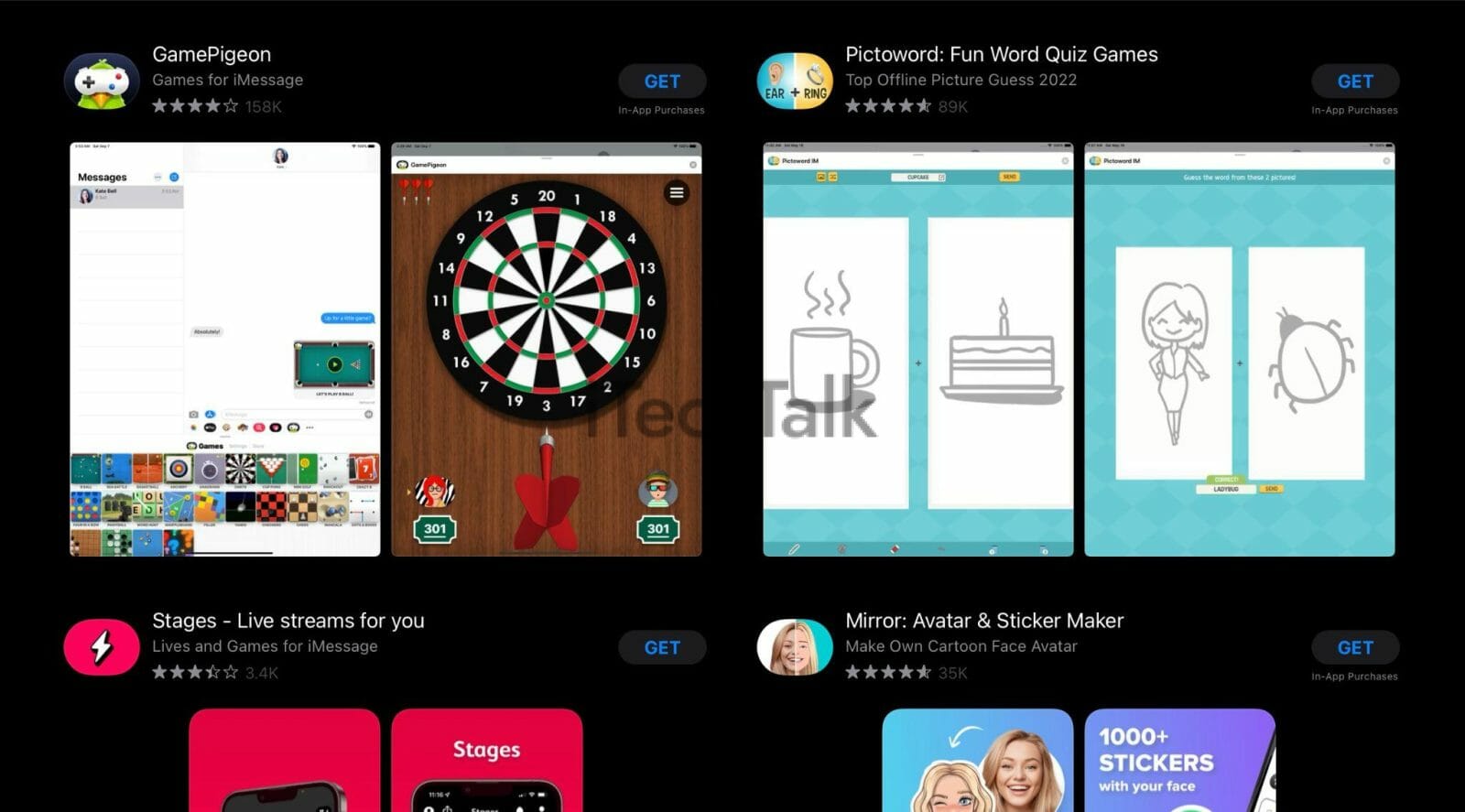 How to Play iMessage Games on iPhone?
Here's how you can play your favorite games with friends on your iPhone. After downloading the game, open Messages and return to the conversation thread with the friend you want to play.
Double-check the bar above your keyboard. You should be able to pan from side to side. When your game has finished downloading, it will show up here.
To begin a game with a friend, tap the game you wish to play with a buddy. This will notify your friend. If they don't have the game yet, they'll be prompted to get it.
Once you and your friend have both downloaded the game, you can take turns playing. After you finish your turn, wait for a notification that it's your friend's turn. They'll receive a message that says it's their turn to play, and then they can tap on the message to be taken back into the game.
How to Uninstall iMessage Games on iPhone and iPad
iMessage games don't show up in the dashboard, so there is no way to find them and remove them from the iOS device. Follow our lead to remove iMessage games from any iOS device.
Open the Messages App and click on the App Store icon.
To access more options, swipe right and tap on More or the Three Dots.
Find all installed games on your device by swiping left.
To delete an item, tap the Delete button.
If you delete the game from your iOS device, it's permanently gone unless you reinstall it. All progress and data will be lost. However, if you're connected to Apple Game Center, then your data might be backed up.
iMessage Games You Should Play
There are tons of iMessage games on the App Store. Here's just a small sample of some of the best games you can find:
Game Pigeon by Vitalii Zlotskii
Game Pigeon isn't just one game. It's a rather large compilation of classic gaming experiences put together. Imagine all of your favorite classic games, all in one spot.
This collection of multiplayer games is the perfect way to have fun with your friends and family via iMessage!
Here are some of the games you get to play:
8-Ball
Mini Golf
Basketball
Darts
Chess
Checkers
Word Hunt
Crazy 8
There are a few in-app purchases and some obtrusive advertisements. It's a great time killer if you have a few friends to play with.
Game Pigeon is free, with in-app purchases.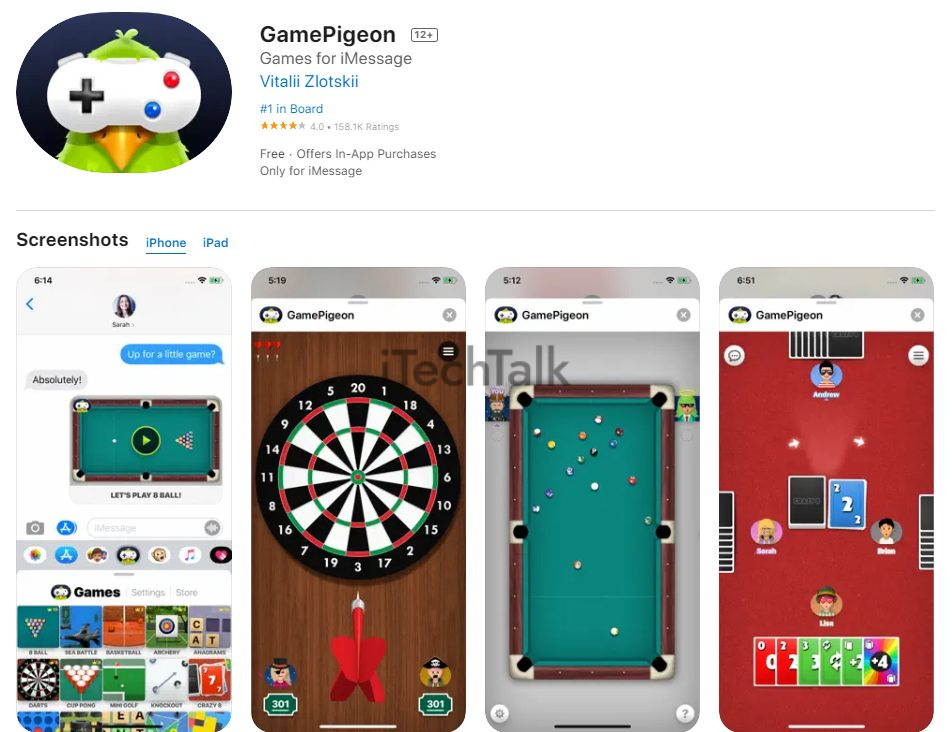 Bubble Bop by Anthony Morales
Bubble Bop is a highly addictive Candy Crush clone with intuitive controls and gameplay.
The objective is to match balloons of the same color and pop them before they take up the entire screen. Sound familiar? That's because games like Candy Crush have popularized this genre.
The controls are simple. Just tap on a group of two or more connected balloons of the same color to pop them. The game keeps track of your score and high scores to see how you rank against your friends.
Bubble Bop is free to play with ads.
Truth Truth Lie by Magnate Interactive Ltd
Two Truths Lie is a game people play in groups to get to know each other better. Each player makes three statements about themselves, and the other players have to guess which statement is false.
Truth Truth Lie brings this classic icebreaker to iMessage so that you can learn more about people from all over the world.
If you don't want to record videos, there's a text-only mode available.
Truth Truth Lie is free, with in-app purchases.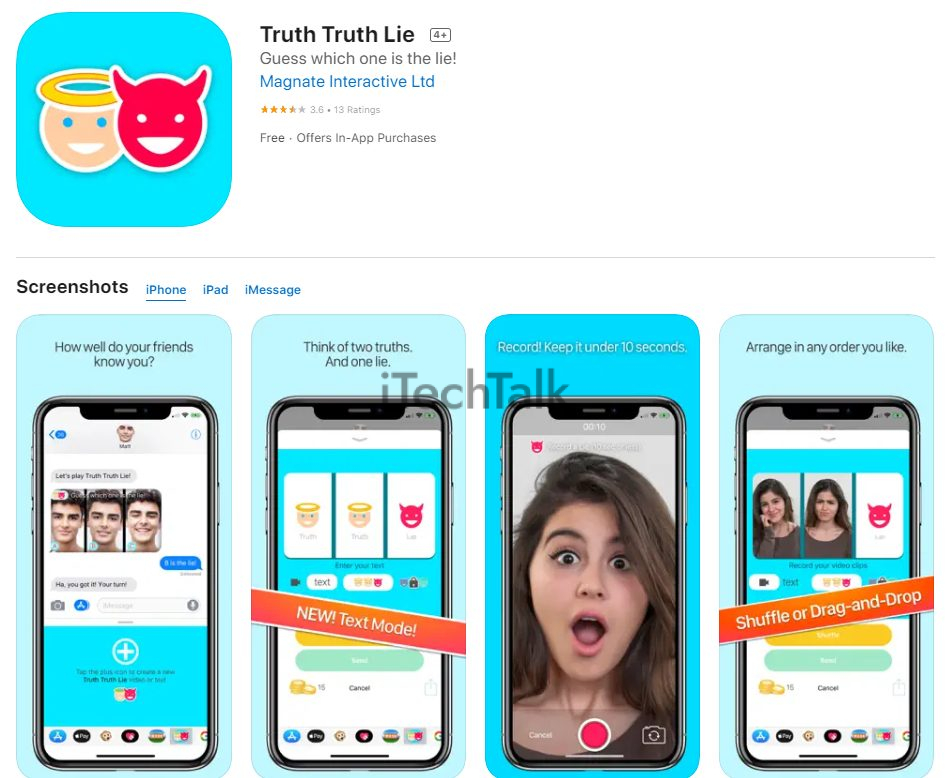 Boggle With Friends by Zynga Inc.
This iMessage game has a variety of gameplay modes and live tournaments. It's enjoyable to play alone or with others.
If you've never played Boggle, it's a board game in which players attempt to spell as many words as possible from a random letter pool. It's essentially a faster-paced version of Scrabble. The perfect game to challenge your pals in iMessage.
Boggle With Friends is free to play with ads.
Cobi Hoops by Cobra Mobile Limited
Cobi Hoops is the perfect game when you and your friends feel competitive. The game's objective is to make as many baskets as possible in 30-second intervals. Access new challenge modes by taking advantage of different shot types to rack up points.
You get to pick from many different and fantastic characters, each with its flair, thanks to the amazing pixel art.
Cobi Hoops is free, with in-app purchases.
I hope you enjoyed this article and downloaded the coolest iMessage games possible. I love playing iMessage games with my friends, and I hope you will too.
What's your favorite iMessage game to play with your friends? Leave a comment below and share this article with anyone you want to join the fun!