TikTok is a great app for watching videos, but not when the app keeps crashing on your iPhone. Unfortunately, TikTok is not always in the best shape when it comes to performance.
In this article, I've put together 7 fixes that should help you get TikTok up and working again.
Fix 1: Check If An Update Is Available
If you're using an older version of TikTok, that may be why it's running slowly or crashing often on your iPhone. You may also get errors when trying to use features that aren't supported by the older app version.
Keep in mind that this is not unique to TikTok. Using an old version of any app can lead to poor performance. In fact, it can cause your iPhone screen to turn black and become unresponsive.
App developers regularly release updates, including security patches, bug fixes, and occasionally new features. Keeping your apps up-to-date guarantees their proper functioning on your iPhone.
Open up the App Store app.
Tap your user profile to open up your account details.
Scroll down and look for any available updates for TikTok.
If you find any updates for TikTok, tap Update.
Fix 2: Check Your Content Restrictions
You may find yourself in a situation where the TikTok app is missing from your iPhone. Many times this is because you have Content Restrictions enabled.
This could have happened either by accident or you turned on restrictions for your kids to play on your phone and forgot to turn the restrictions back off.
Here's how to check if TikTok is Content Restricted:
Open Settings > Screen Time.
Tap on Content & Privacy Restrictions and then Content Restrictions.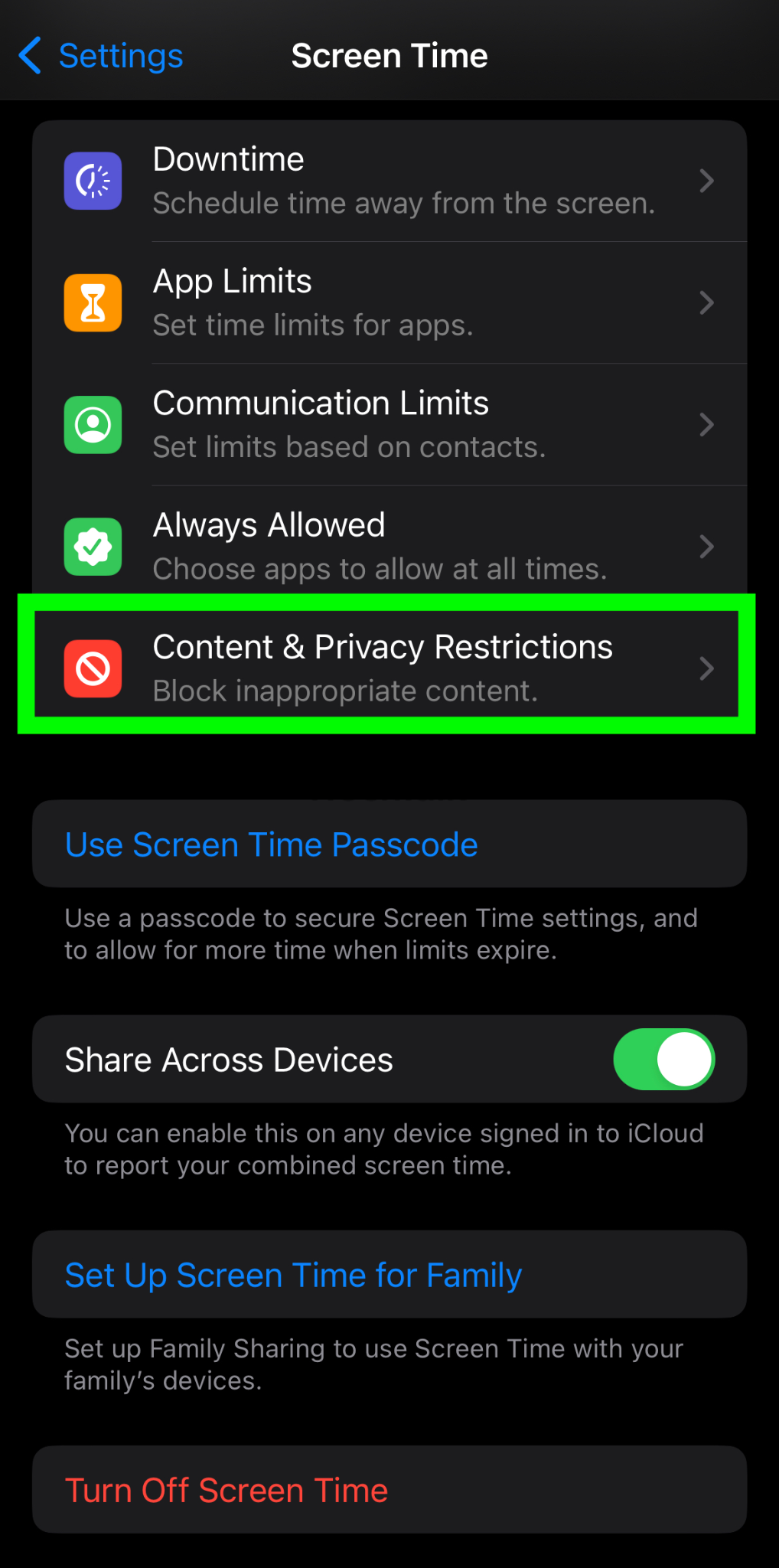 If prompted, enter your Screen Time Passcode.
Tap on Allowed Apps.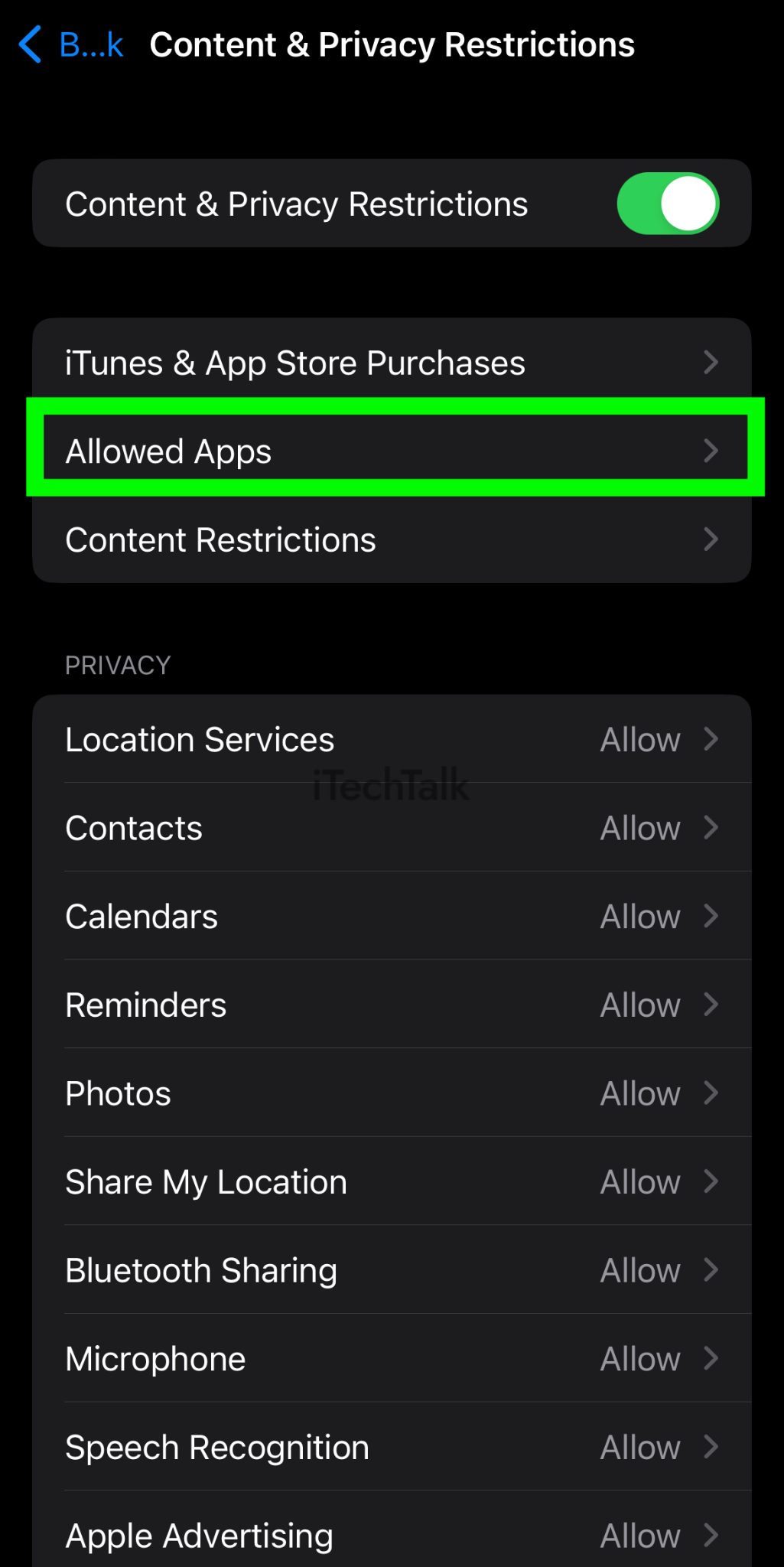 Find TikTok, then change the restrictions based on your preferences.
Related Reading
Fix 3: Check App Permissions
If you're having problems with TikTok on your iPhone, it might be because you haven't allowed the app to access certain features. For example, if you want to record a video on TikTok, you have to give the app permission to use your microphone and camera.
If you want TikTok notifications, you have to enable them in Settings. So check what permissions you've given the app and make sure they match what type of experience you want on TikTok.
Here's how you can enable app permissions for TikTok:
Open the Settings app.
Keep scrolling to see the list of apps on your iPhone. Find and tap the TikTok app.
Check and ensure that you've enabled the necessary permissions.
Fix 4: Check If TikTok is Down
Sometimes, the TikTok server is down. Or TikTok could be going through routine maintenance.
Additionally, in some rare cases, the servers might crash or go down due to some bug. In such cases, there's nothing you can do at your end to fix TikTok. You'll just have to wait it out.
Updates on TikTok's server status can be found on their Twitter handle or by heading to Downdetector.com. The site will show you an outage map for the past 24 hours, so you can check if TikTok or any other online service is down.
Fix 5: Reset Network Settings
If TikTok isn't working on your iPhone or if it freezes often, there might be some connectivity issues. To fix this, you can reset the network settings on your iPhone, which will also delete any conflicting data that is affecting its normal functioning.
If you choose to do this, your device will delete all saved network information- like Wi-Fi networks and passwords. You would have to reconnect to these networks, so make sure you remember the password for each one.
1. Open Settings > General.
2. Next, tap Reset > Reset Network Settings.
3. Enter your passcode if prompted.
4. Tap Reset Network Settings to confirm your decision.
Once you confirm the reset, your iPhone will restart automatically and load the default network settings. Open the app to check if TikTok is working properly.
Fix 6: Delete TikTok And Re-install TikTok
If you have updated the TikTok app, but it continues to crash or become unresponsive on your iPhone, try deleting and reinstalling the TikTok app. A software file within the app may be corrupted, which is causing these performance issues.
Unfortunately, sometimes the app itself can get entirely corrupted and malfunction as a result. If you find yourself in this predicament, uninstalling and then reinstalling TikTok on your iPhone is usually the most effective solution.
Here's how to delete and reinstall the TikTok app from your iPhone:
Press and hold on the TikTok app icon.
Doing this will immediately bring up the quick action menu. Tap Remove App.
After you've deleted TikTok, restart your iPhone. Then, go to the App Store and install TikTok again. Make sure it's the latest version.
Fix 7: Contact TikTok
If you've tried every fix so far, and nothing's worked, then you may have to contact TikTok.
There might be a problem with your account, or there could be an issue with the app itself.
The best way to get in touch with TikTok is through their support page. Select the type of problem you're having, and you'll be able to fill out a form describing your issue in detail. They should get back to you within a few days.
I hope that one of these fixes worked for you. Please leave a comment and let me know.
Also, if you know someone struggling with TikTok on their iPhone, please send them this article.