Have you ever wanted to avoid someone's calls without hurting their feelings or revealing that they have been blocked? Fortunately, several options are available on your iPhone to help you do just that.
In the article below, you will find all the ways you can avoid someone's call without the caller ever finding out.
Stop Calls On Your iPhone By Turning Off Notifications
There are several methods to stop unsolicited calls and messages on your iPhone without blocking the caller. One way is to turn off notifications for incoming calls:
Open your Settings app and select Notifications.

Scroll down to the Phone app.

Disable the Allow Notifications toggle. This will prevent you from receiving any notification or alert when you receive a call, but you will still be able to answer it if you want to.

How do I temporarily block incoming calls on my iPhone?
To temporarily block incoming calls on your iPhone, go to Settings > Do Not Disturb and toggle the feature on. This will silence all incoming calls and notifications so you won't be disturbed. You will still receive calls; you just won't be alerted to the call.
Related Reading
Enable Airplane Mode
Airplane mode is a mode on your iPhone that allows you to block incoming calls and SMS. This mode is useful when you're on an airplane, and you are told to turn off all electronic devices, but that's not the only use of this feature.
You can also use Airplane Mode to stop calls and SMS messages.
The easiest way to do this is to swipe down from the top of your screen to open your Control Center and tap the Airplane Button.
Turn On Do Not Disturb
The Do Not Disturb mode will silence notifications and phone calls for a set period of time. This is useful if you want to focus on one task or need some alone time without being interrupted by distractions everywhere around us!
You can turn Do Not Disturb on by:
Go to Settings > Do Not Disturb, then toggle the mode on at the top.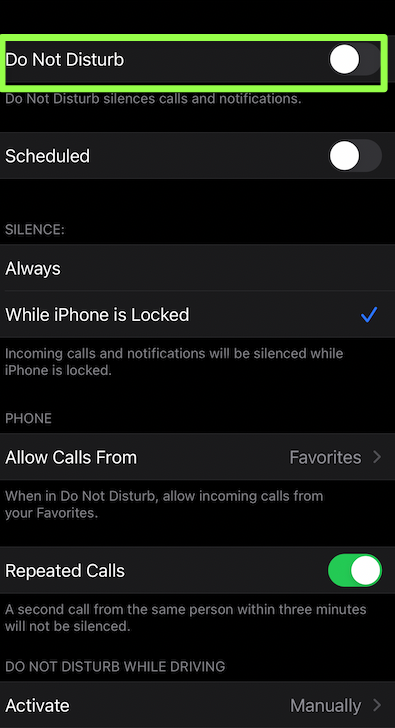 You can even add your favorite contacts to the favorites list so that if you have Do Not Disturb on, you will still get calls from the people on that list.
How Do I Turn Off Do Not Disturb On My iPhone?
You can disable Do Not Disturb manually in the Control Center, by setting a schedule, by enabling Do Not Disturb When Mirroring to Apple TV, or by leaving a location or geofence. To disable it manually in the Control Center, tap the icon and slide left so that the color changes from green to gray.
When Should I Use Do Not Disturb?
By default, Setting > Do not disturb automatically turns on when you're driving (iOS 11 and later). When you're driving, your iPhone can detect movement and let others know that you may be busy with a phone call. You might see "Do Not Disturb is on While Driving" on your Lock Screen.
How Do I Know If I'm Calling Someone Who Is Using Do Not Disturb?
There are a few ways to tell if someone has Do Not Disturb mode enabled on their iPhone. If you try to call them, you will either hear a busy signal or be sent straight to voicemail.
You may also see a moon icon next to their name in your Contacts app. When you send them a message, you will see a "Delivered" notification instead of a "Read" notification.
The same is true when you send a message to yourself. You will see the "Delivered" notification but not the "Read" notification.
Switch On Call Forwarding
If you need to stop calls on your iPhone, you can do so by turning on call forwarding. This will send all calls to your iPhone to another phone number that you specify.
To turn on call forwarding:
Open the Settings app.
Scroll down until you find Phone. Tap on it.
In the Calls section, tap the Call Forwarding option.

Tap the Call Forwarding button to toggle it on.

Finally, tap on Forward To and then follow the prompts. This will include entering a different number for your calls to be forwarded to.
How To Block Someone From Calling You
Another way to reject the call when someone specifically tries to reach you is to block the phone number.
First, open the Phone app.
Next, find the contact you wish to block and tap on it.
Tap the Block Contact button.

There's also an option to report spam calls in the Phone app settings.
If someone is repeatedly calling you even after being blocked, you can report them at donotcall.gov or by calling 1-888-382-1222.
How To Unblock Contacts On iPhone
Unblocking a contact is just as easy as blocking a contact.
Go to your contacts list and find the person you want to unblock.
Once you find them, tap on their name and then scroll down to the bottom of the screen.
There will be an option that says, unblock this person. Tap on that and then confirm that you want to unblock them.

How To Stop Receiving Texts From Unknown Numbers
If you're receiving texts from unknown numbers, there are a few things you can do to stop them.
You can try to ignore the texts and hope that the person will give up and stop trying to contact you.
If that doesn't work, you can block the number so that they can't contact you again, or you can report the number to your carrier so that they can take action.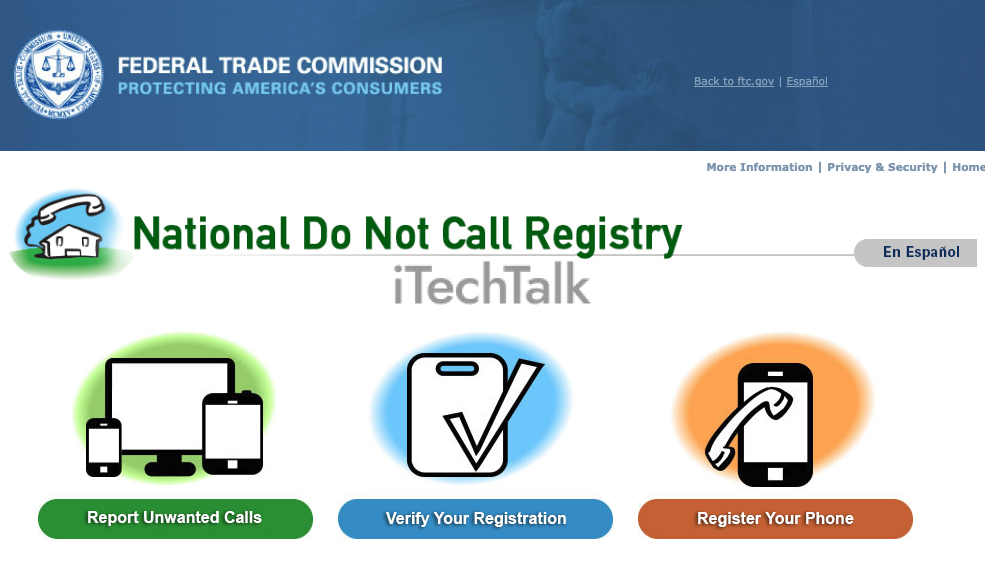 I hope you enjoyed this tutorial and managed to stop getting calls from whoever was annoying you.
Which way worked best for you? Please leave a comment and let me know. Also, please share this article with anyone you know who needs to stop getting annoying calls.