An OLM file is a database created by Microsoft Outlook to store emails, contacts, calendar items, tasks, and more. An OLM file can only be opened by a compatible email application such as Apple Mail or Microsoft Outlook.
If you're stuck opening one of these files, you've come to the right place. This article will teach you everything you need to know about how to access OLM files on your Mac.
Related Reading
Open OLM File On Mac Using Outlook For Mac
Probably the most natural way to open an OLM file on your Mac is with Outlook for Mac. If you have this software, the process is a simple one:
Launch Outlook For Mac.
Navigate to the Tools Tab. Select Import.
When the Import window opens, select Outlook For Mac Archive File (.olm). Then, click on Continue.
Navigate to your OLM file on your hard drive, then click Import.
You can now view your OLM file on your Mac.
How To Open OLM Files On Mac Without Outlook
In order to open OLM files on Mac without Outlook, you will need a third-party application. There are many applications available that can help you open and view the content of an OLM file. Here is a step-by-step guide on how to do this:
Download a suitable OLM converter software. There are plenty of OLM converters out there, but not all of them are worth using. I will be giving a list of the best OLM converters, so make sure to keep reading.
Once you've installed the OLM Converter, launch it on your Mac computer. It should have an easy-to-use interface with just a few buttons and options.
Click on Add File or Add Folder, depending upon the type of file you want to open, and select the OLM file you want to open.
Once the file is added, choose the format in which you want to save it. You can choose from a variety of formats, including PST, EML, MBOX, HTML, and MSG.
Click Convert and wait for the conversion process to finish. You will get a notification once the file is converted.
Now, you can open the converted file using any email client (for example, Apple Mail) or simply view its contents in a text editor.
That's it! You have successfully opened an OLM file without Outlook on Mac. Once you're done viewing it, make sure to delete the converted files, as they are usually very large in size and take up a lot of disk space.
The Best Third-Party OLM Converters When You Need To Open OLM Files
Here are the three best third-party OLM converters you can find for your Mac:
SysTools Mac OLM Converter
SysTools Mac OLM Converter is known for converting OLM files into different formats. This includes emails, contacts, and anything that relates to OLM files. The output is free from any type of data loss or corruption.
You can select multiple files to convert at once. Even if you are not tech-savvy, you can use this software without any difficulty.
It is available for Windows and Mac users. You will be able to save your emails in multiple different formats, like PST, EML, MSG, MBOX, PDF, and HTML.
The process is completely safe and secure, as the software does not make any changes to the original files. Plus, you have the ability to preserve the original folder hierarchy of your mailboxes.
You can purchase a personal license for as low as $39. Check the official website for more information.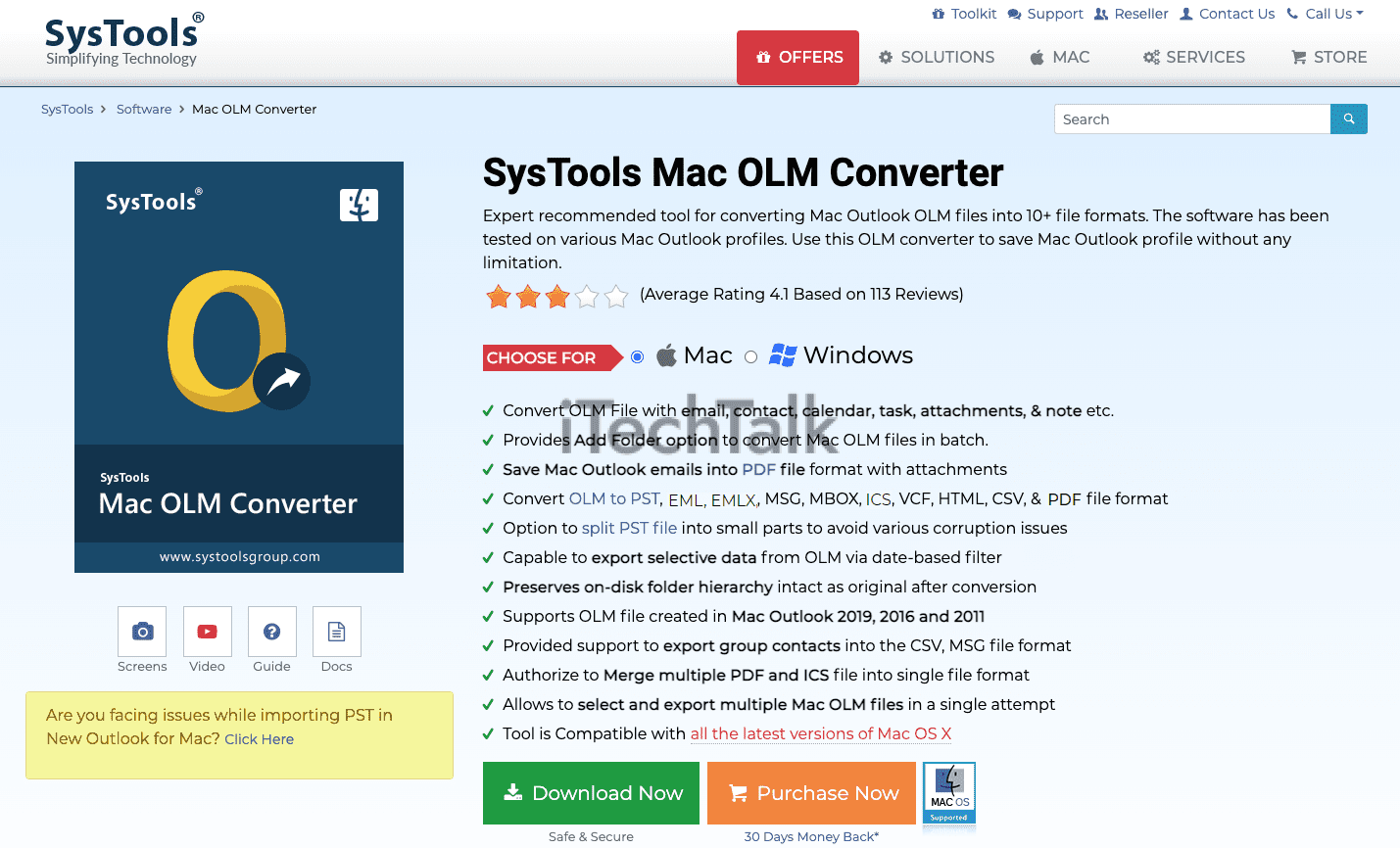 CubexSoft OLM Converter for Mac
The OLM converter for Mac by CubexSoft is a powerful and versatile solution that helps you quickly move your Outlook Supplied emails, contacts, calendars, tasks, and notes into a more universal format.
This advanced software is a quick and secure solution to export OLM files into PST, EML, MSG, MBOX, PDF, EMLX, VCF, and ICS formats on Mac OS. It also allows you to save the converted items in cloud-based applications like Office 365 & Exchange Server for easy access or further use.
Check the official CubexSoft website for pricing options.
Cigati OLM Converter Tool
Cigati OLM Converter Tool is a widely used product to convert Mac OLM files into multiple file formats such as PDF, PST, DOCX, EML, MSG, etc.
It provides multiple advanced features such as adding email filters, conversion of single or multiple OLM files at a time and also enables batch conversion. This tool is compatible with all versions of Outlook for Mac and can be used to export contacts, and calendar items into VCF, and ICS formats, respectively. It also provides complete data integrity while exporting OLM file items.
Cigati OLM Converter Tool provides potential customers with a free trial version of the product which has limited features. This allows individuals to use and evaluate the tool prior to making a purchase. Furthermore, it offers 24×7 customer support and lifetime free updates; two factors that make the tool more favorable compared to others on the market.
Visit the official website for more information.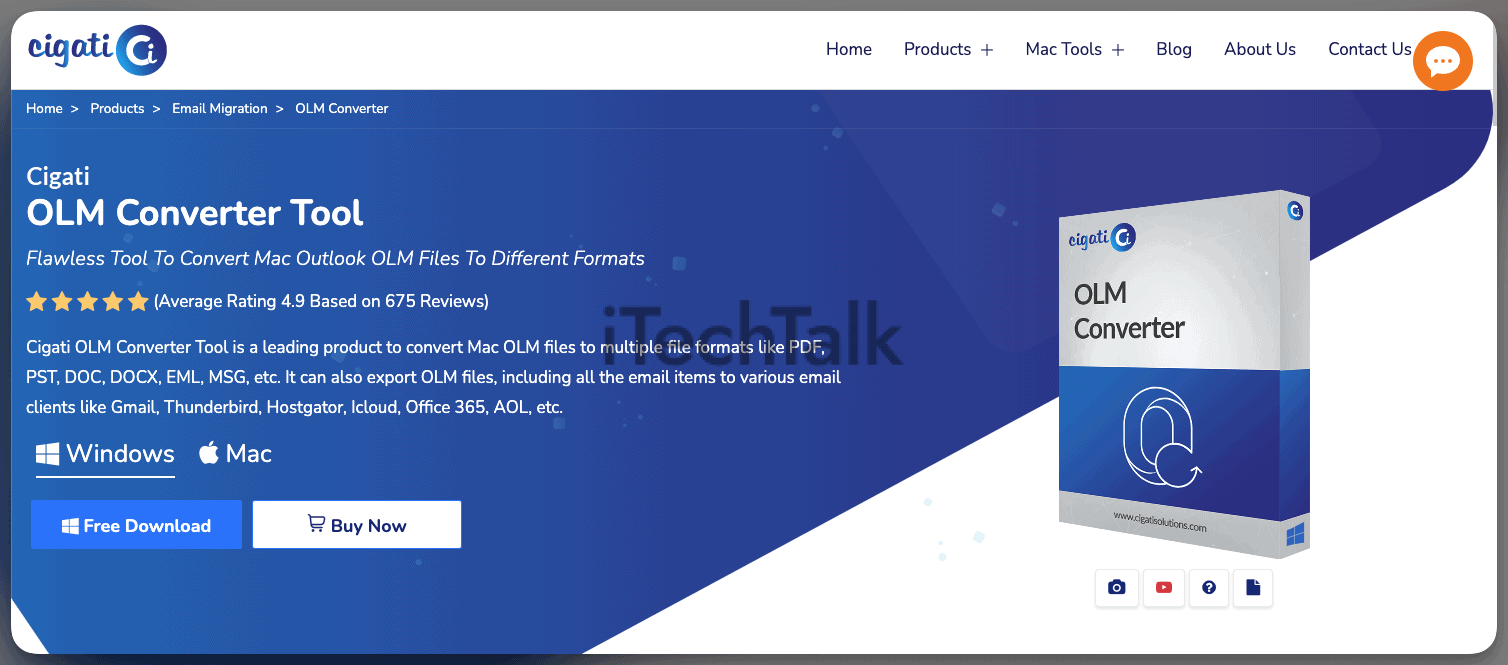 I hope you learned something about how to convert OLM files on your Mac. If you know someone who is dealing with this same concern, please share this article with them.