TikTok itself offers a screen time management feature for this very reason. Although the feature just lets you set the number of minutes you want to use on the platform, it does not outrightly block it. Nonetheless, it's still a very handy feature.
You have a more adjustable way of blocking TikTok with your phone screen time settings. And you can block the app entirely from your router by blocking all the domains the app uses.
In this article, we'll go over the several ways to block the TikTok app on iPhones, how to block the app from being redownloaded and how to set parental controls on Chrome you can use for parents that want to stop their kids from using the web version.
How to Block the TikTok App Using Screen Time Management
This method is directly from TikTok itself. That's right! The app offers ways to control its usage. However, this is the least recommended option. While it works just fine, it does not block the app totally and does not offer the flexibility of the iPhone's screen time setting.
Related Reading
Steps to Block the TikTok App Using Screen Time Management
Open the TikTok app on your iPhone and click your profile.
Click on the Settings and Privacy option.
Select Digital Wellbeing from the General menu.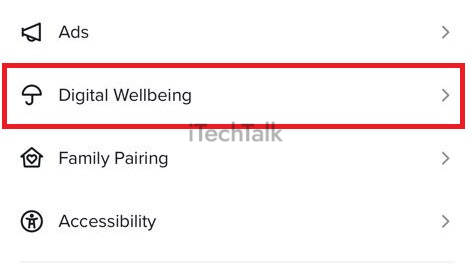 You should see "Daily screen time." Tap on it.
Choose your preferred time restriction, and create a password.
And that's all.
Note that when next you're using TikTok and you hit the set time limit, you'd have to enter the password to prolong the time.
How to use the Screen Time settings on the iPhone to limit TikTok usage
Here's another way to block TikTok on your iPhone. Compared to TikTok's system setting, it offers more flexibility for customization. The procedure is also very similar.
Steps to Block TikTok on iPhone using Settings
Launch Settings on your iPhone.
Scroll down and look for "Screen Time."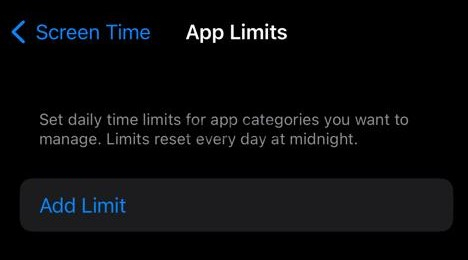 Choose TikTok and click Next.
Select the time frame and click Add.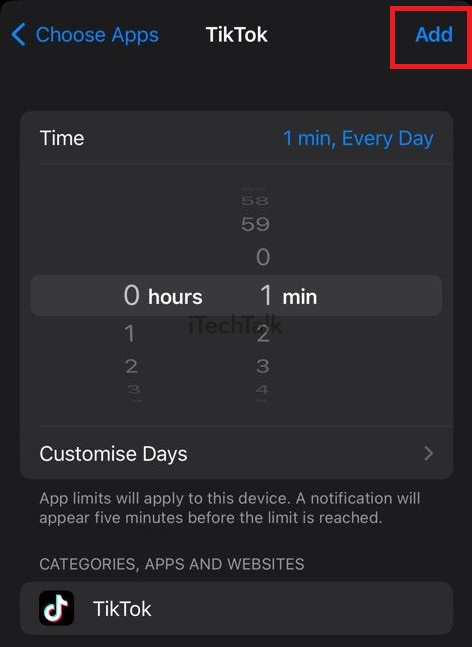 And that's all.
How to Block TikTok on iPhone From Router
This might be the most effective way to actually block TikTok on your iPhone because you are blocking the app from the network access point. To go about it, you have to ban TikTok from your home wifi router. This will prevent your iPhone from accessing it.
Although different routers implement parental controls in different ways, the general procedure is the same for the majority of consumer-grade routers. You must block each domain that an app utilizes in order to prevent it from being used through a router.
Steps to Block TikTok on an iPhone using Router:
Log into the router's control interface.
Navigate to parental control after that.
Next, select the edit icon next to the device name.
The "Website Access Limit" menu can be found there. Open it.
Select Access Control Mode from the menu. Choose "Blacklist" from that menu.
You'll see a box to enter the URLs of websites you want to restrict under the Access Control Mode.
Activate the "Block Website" box and enter the following domains: TikTokcdn.com, TikTok.com, TikTokv.com
Finally, select the Save button.
It's worth noting that the TikTok app occasionally makes use of additional domains. You can enter all the auxiliary domains in the "Block Website" box to totally and reliably block.
How to Block TikTok From Being Re-downloaded?
You can disable the TikTok app on the targeted device if you don't want your children to download it. If you install the KidsGuard app on the device and add TikTok to the block list, the app will be blocked and your children won't be able to re-download it.
How to Set Parental Control on Chrome?
Just to be sure that you are safe, you can also block TikTok on Chrome. You simply have to download the "block TikTok" Chrome extension, install it, and add it to your extensions. Install it and set it up and TikTok is blocked.
Conclusion
So we have covered both how to reduce screen time and set time limits for TikTok. And if you want to completely block it, we've also outlined how to disable the TikTok app on Chrome, using a router, and how to block it from being re-downloaded.
Whether you are using this for productivity purposes or to restrict your kids from spending too much time on the app or spending time at all, these solutions work well. However, it'd be up to you to select which one is most appropriate for you.