When you turn on any Focus routine inside iOS, a message will be sent to anyone who texts you telling them that you are unavailable and that their messages will not be notified.
This is what Apple calls Focus Status, and this can be activated on your iPhone, iPad, or Mac by selecting any routine. Focus Status peacefully tells people you're busy and that you don't want to be bothered through text unless it's urgent.
This is why it can be so annoying when Focus Status stops working. But don't worry; this article will cover all the ways you can fix this important feature if it stops working.
Enable Share Focus Status On Your iPhone
In order to share your Focus Status, you must have the share settings turned on for all of your Apple devices. If you don't share your Focus routines between devices, then people who message you won't be able to see when you're busy or if a focus is active.
It's possible that the feature itself was turned off by mistake, or it was never turned off in the first place. This seems to happen to many iPhone users.
Either way, here is how you enable Focus Status.
Open up the Settings app.
Scroll to about the middle of the screen and tap Focus.

Toward the bottom of the screen, toggle on the Share Across Devices switch. This will make it so if you turn a Focus mode on with one iOS device, all of your iOS devices will turn on that Focus mode.

Tap Focus Status.

At the top of the screen, make sure Share Focus Status is checked on. This will officially enable Focus Status for anyone trying to contact you.
Also, make sure all of the focus modes below Share From, are checked on.

Diagnose & Fix Share Focus Status Not Working
This one may be the most common mistake. It's tough to remember to turn on your favorite Focus Mode sometimes.
Make sure the appropriate focus mode is activated in case an app or contact overrides your focus mode.
To check all of your Focus modes, enable the Control Center and tap on the Focus module. If another focus mode is already active, tap the one you want to activate instead.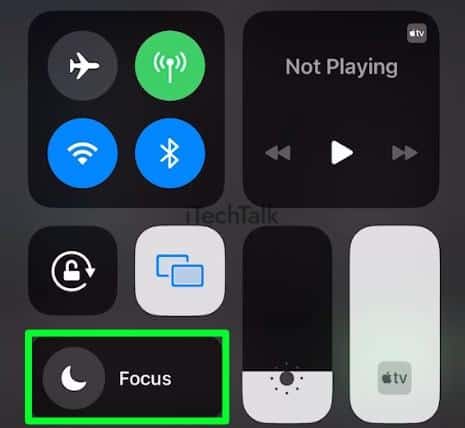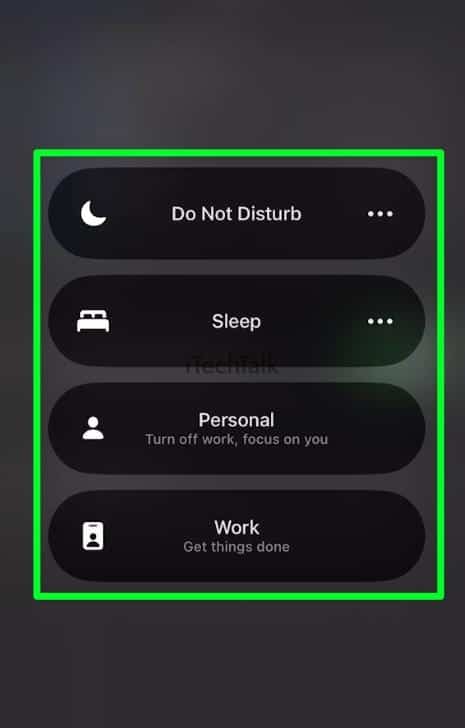 Related Reading
Whitelist Your Contacts
If your contacts are not getting your Focus Status, you may need to check and see if you have the contact whitelisted in the app itself.
It can be a bit of a hassle to whitelist a contact, but once you do it, you won't have to whitelist them ever again.
Open up the Settings app.
Scroll down and tap Sounds & Haptics.

At the top of the screen, pick the Focus Mode that you wish to whitelist your contact to. This could be any of the Focus Modes available.

If you're trying to whitelist a contact, tap on the People section.

Under Allow Calls From, choose Allowed People Only.

Now you're all set up to whitelist as many contacts as you'd like. Click the plus button to choose your first contact.

Check Your Focus Schedule
If you use focus modes, there might be some inconsistencies in your schedule, which may cause your Focus mode to activate or deactivate at incorrect times. Double-check your focus mode schedule using the instructions below to make sure it is not being activated or deactivated at an incorrect time.
Open Settings.
Tap on Focus.

Select any one of the Focus Groups available.

At the top of the screen, tap on Add Schedule.

From here, you can change your Focus Schedule however you need to.

Restart Your iPhone To Fix the Share Focus Status
Restarting your iPhone is another common way to fix this problem.
Restarting your iPhone is different depending on the model of your device. Click Here, if you're not sure how to restart your iPhone.
Check Your Privacy Settings
As of iOS 15.6, Apple has decided to limit the Messages app's ability to automatically share your Focus state. Therefore, the Share Focus Status option might not be present when you access a person's contact information inside the Messages app on iOS 15.6 and later versions.
Therefore, you will have to adjust your privacy settings on iOS if you want the Share Focus Status toggle to appear in Messages. You can do this by:
Open up the Settings app.
Tap on Privacy & Security.

At the bottom of the list, tap Focus.

At the top of the screen, if the Messages switch is not toggled on, make sure to toggle it on.

The "Share Focus status not working" glitch can be a very annoying one. I hope this article helped you solve it. Please leave a comment if it did.
Also, please share this article with anyone you know dealing with this same issue.