"Why are there so many different file types out there? Why can't everything just be one universal file type?"
If this is you right now, then I'm right there with you. It would be nice if there was only one file type to worry about that could be opened on both Mac and Window Computers.
Unfortunately, that's not the world we live in, and we have to deal with a ton of different kinds of files in our everyday lives. That includes DAT files.
In today's article, I will explain what DAT files are and the several ways that you can open them on your Mac.
What Is A Dat File?
A DAT file is short for "Winmail.dat" These files are created by Microsoft Outlook or Microsoft Exchange.
So if an email attachment on your device is labeled "Winmail.dat," the sender composed the email using one of those two programs.
When you compose an email in Microsoft Outlook, you can choose from three formats: Rich Text, HTML, and Plain Text. If you use Rich Text Format or HTML, Outlook will automatically attach a winmail.dat file to the message.
The winmail.dat file contains unreadable formatting information of the email. If a user chooses plain text format while composing the message, then no winmail.dat file will be attached to the email.
Related
How To Open DAT Files On A Mac
There are many ways to open up DAT files on your Mac, and I will be covering the most popular options below:
Try Saving The File In A Different Format First
Many times, winmail.dat files are mistaken as attachments. However, if you know the file format you were supposed to receive or see something in the email that says "find word document attached," all you have to do is save the file under the correct name extension.
Make sure that the Mac feature for displaying file extensions is turned on. By default, it is usually off.
Open Finder from your desktop, then click the Finder menu and select Preferences.
Click on the Advanced tab.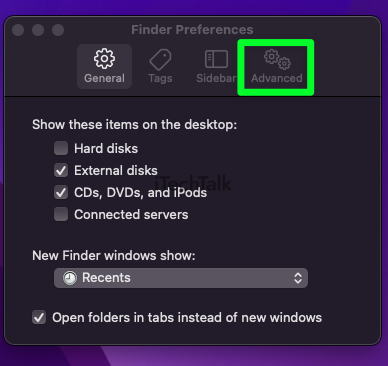 Checking the Show all filename extensions box should make your file extensions start appearing. If it doesn't work at first, try unchecking and rechecking the box again.
Then, go to your Mail app and find the email that has the winmail.dat
To save the winmail.dat file, Control + click or Right-click it and then select Save Attachment.
Mac then opens a dialogue box. In the text field for the file name, replace "dat" with the expected file extension.
After choosing the desired save location, click on the Save button.
To change the name of a file, go to its location, click on it to select it, and then type the new name into the text box above.
Note: This may not work for every .dat file. However, if your device has associated the wrong file extension with a certain file, this method should allow you to open it.
Related Reading
Use TextEdit
If you're struggling with how to open a DAT file, another method you can use is TextEdit.
Download the DAT file to your computer.
When the file appears, right-click, and a menu will pop up. From there, hover over Open With.
Choose TextEdit from the drop-down menu.
If TextEdit cannot open the file, it means that the file isn't text-based. Many DAT files cannot be accessed and shouldn't be tampered with.
If the file eventually opens in TextEdit, check the data for lines of code or instructions meant for a specific program. If you find a familiar program name mentioned in the text, that program may be able to open the file.
The Winmail.dat Opener Tool: TNEF's Enough
This may be the most popular option for programs you will need to download to open your DAT file.
If you're using a Mac and need to open a winmail.dat file, TNEF's Enough is a straightforward solution that only requires a few steps.
TNEF Enough is a Mac application that allows you to read and extract winmail.dat files. So, next time you receive a winmail.dat file as an email attachment, you can use the TNEF Enough application to get at the file's content.
To launch the TNEF's Enough tool on your Mac:
Tap the Open with menu and browse to the files you wish to convert
For quick access, you can also drag and drop the winmail.dat file into the converter.
After the file is added, you can view a list of all the attachments found in the winmail.dat file. To save an attachment, simply select it and click the Extract button. By default, TNEF's Enough will save the extracted files to your Downloads folder.

Letter Opener
Letter Opener integrates with macOS Mail app to open a Winmail.dat file with its attachment. However, you can only open and view one Winmail.dat file per week for free.
You can download Letter Opener from the Mac AppStore or its website.
Letter Opener operates on a simple drag-and-drop system, similar to the last program mentioned.
Use Winmail.dat Reader
If you don't want to download any extra software and only need to open a couple of Winmail.dat files, there are free online readers available.
Winmail.dat Reader makes it easy to view Winmail.dat files by providing two ways to upload them: choosing a file from your computer or entering a URL where the file is located.
This service is free, and there is no need to install any third-party tools.
There are disadvantages, however:
Files larger than 50MB are not accepted.
Ads on the website can pose a risk of information leakage.
Downloading speeds are based on how well the network is working.
This software cannot open batches of files at one time.
How To Open Winmail.dat Files On Mac Online:
To begin, visit Winmaildat.com and either upload Winmail.dat files from your computer or enter a URL where the files are located.
To retrieve the winmail.dat file in RTF format, click Start.
The email body and attachment will be displayed.
In order to open the RTF file, you must download the message body.
Hopefully, one of these solutions helped you open up your DAT file. Leave a comment below and let me know which solution helped you.
Also, please share this article with anyone you know who is struggling to open a DAT file on their Mac.